(516) 483-0579 weekdays (518) 734-5435 weekends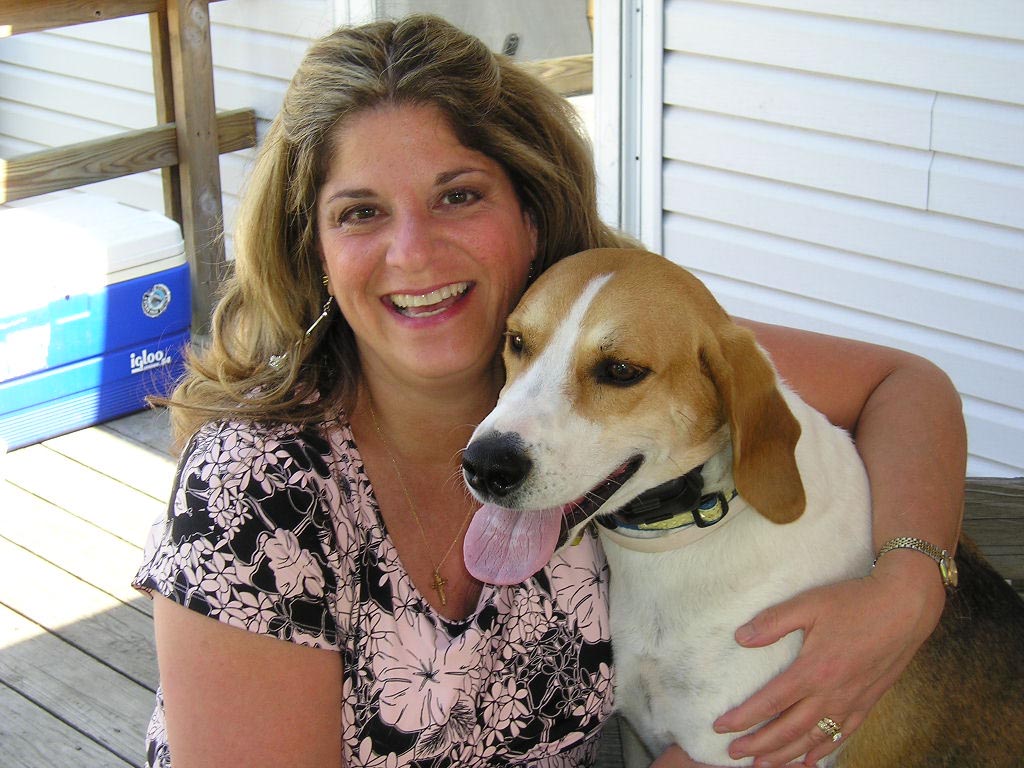 Lorraine Siena Reid – Trainer
In February of 2005, Lorraine Siena Reid found herself adopting a Harrier named Yogi. Yogi was almost 2 years old when he came into her life. She had the feeling this dog would change her life but at the time was unaware of how true this feeling would become. Part of the adoption agreement was that the dog's obedience training be maintained. She sought out to find a dog obedience school. No one wanted to take on a 2 year old dog for obedience training. One day she stumbled upon Best Friends Dog Training and they were more than happy to take them on as clients. Through Best Friends, Yogi was able to maintain his obedience requirements. Lorraine and Yogi went on to learn tricks such as skate boarding (he won a best trick contest). Yogi also became a certified therapy dog licensed under TDI, Inc. (Therapy Dog International).
Lorraine spent the majority of her professional career as a corporate officer for a brokerage house. That corporation, like many others, felt the effects of the changing economy and chose to close its doors in 2007. Lorraine found herself in the position of needing to be retrained in order to become more competitive in the marketplace. She decided that she would do so within a field that has been a passion of hers since childhood: dog training. She enrolled in the New York Academy for Dog Trainers. There she studied under Frank Bonomo and Mary Travers, Ph.D. Frank has been a trainer on Long Island since 1998 and specializes in off leash obedience and protection training and holds certificates for narcotics and scent-detection training. Mary has been a trainer on Long Island since 2002 and holds a Ph.D. in psychology. Her dissertation was on the learning behavior of dogs. Lorraine has worked with rescue dogs through the Academy and has saved a number of dogs from being euthanized by rehabilitating them through training. She has also done freelance work for Best Friends Dog Training on Long Island. Lorraine was a staff member of Canine Camp Getaway of NY.
She was certified as a First Responder with Noah's Wish  and the Pet Safe Coalition in Nassau County. Both are animal welfare organizations dedicated exclusively to rescuing and sheltering animals in disasters. She is FEMA certified in disaster response. She holds certifications in pet CPR First Aid as well as infant, child, and adult CPR & First Aid and CERT (Community Emergency Response Training).  She also completed a course training with dolphins and sea lions. 
Lorraine recently spent some time in Alaska with her husband.  While there they decided to try their hand at Alaska's state sport which is dog mushing.  She got to enjoy the art of mushing under the watchful eye of 2008 Junior Iditaron Champion Jessica Klejka.
For the first four days during Hurricane Sandy Lorraine managed the animal rescue shelter, representing the Petsafe Coalition of Long Island, NY through the Office of Emergency Management (OEM) at Mitchell Field. As the victims of the storm were losing their homes to flooding and wind damage Nassau County OEM scrambled to organize a place to provide safety and welfare for over 150 dogs. She was called upon to be responsible for a team of volunteers who went to great lengths to extend a helping hand to a community in need in the best way they know how: loving their animals and keeping them safe until they could be reclaimed.
We are saddened to say we lost Dennis on September 29, 2020 – You will forever be in our hearts! May you Rest in Peace!
Dennis Kanyuk – Activities Director  ( Long Island Branch)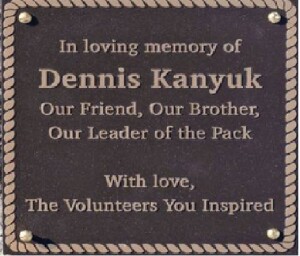 Dennis began working with Happy Paws K-9 Academy in January of 2010 when he adopted his 2nd dog Buddy as a companion to his first dog Laika.  Buddy was extremely shy and afraid of everything and everybody.  To overcome some of Buddy's issues,  Dennis found himself spending a lot of time with Yogi (Lorraine's dog).  With the help of Yogi and by playing games he was able to bring Buddy out of his shell.  He knew Laika's days were numbered (she was 16), he decided to give another dog a forever home – Princess.   Dennis is a retired charter boat captain – the Princess Marie out of Point Look Out on Long Island (hence the dogs name). When Dennis is not supervising play time at Happy Paws K-9 Academy he is volunteering at the Freeport Animal Shelter under the supervision of Bobby and the Strays.  He since has adopted another dog named Lucky. Lucky was found roaming the streets of South Hempstead – since there was no room at the Inn (so to speak – ie. the Freeport Shelter) he decided to foster the dog until her forever home was found. As happens a lot – he grew (as we all did) very attached to Lucky and decided he would be her forever home. Dennis now has three very lovable dogs he calls his family.
Some Communities we serve:
Dog Training in Nassau County New York 516-483-0579
We provide dog training in all of Nassau County, including but not limited to Baldwin, Freeport, Hempstead (including North Hempstead, South Hempstead, and West Hempstead), Franklin Square, Levittown, Lynbrook, Massapequa, Merrick, Oceanside, Rockville Centre, Valley Stream, Wantagh, 5 Towns.
Dog Training in the Catskill Region of Upstate New York 518-734-5435 (weekends only)
We provide dog training in most of Greene County, including but not limited to Hunter, Windham, Maplecrest, Hensonville, Tannersville, Haines Falls, Elka Park, Jewett, Acra, Purling, and Phoenicia (in Ulster County).