(516) 483-0579 weekdays (518) 734-5435 weekends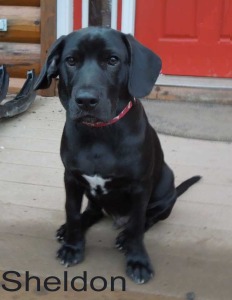 Sheldon – Lab mix        
Lorraine saved my dog. Thank you so much! We had a dog we were frightened of. He was biting us and unpredictable. The only advice we received prior was to take him back to the pound where they would probably put him down. We now have a happy,coexisting family member with no more biting. We love this little guy so much and are so glad we did not listen to the previous trainer and are so blessed that we found Lorraine. I believe when I first called her I was crying because I did not want to take him to the pound. We also found a friend in Lorraine and we no longer feel alone in training. We feel we can call her anytime with any issues that arise. Thank you so much. Please give her a call.
                                    Colleen L-C , Hudson, NY
         Rex – Lab mix                     
Thank you for all your help with Rex.  In just a few shorts weeks you took a dog with no obedience or respect for his owners and turned him into an obedient dog that responds to commands.  We were almost ready to try to find another home for him and you came in and turned him into a new dog that is now a happy addition to the family.  We were unable to have people come over to the house without worrying about how he was going to react.  Now we can have people over and he is very well behaved and actually enjoys the extra attention.  When the doors were opened he would try to make a break for it every time.  Now when the door bell rings, he goes into a sit and stay and I am able to answer the door without him trying to rush outside.  Going to a dog park was out of the question because we never knew if he would get along with the other dogs or try to fight them.  Using your own dog you were able to recondition him to be calm around another animal.  I would highly recommend your training with the e-collar to everyone. 
                                                  Jessica, East Meadow, NY
  Buddy – Miniature Australian Shephard 
I just wanted to say THANKS SOOOO MUCH for the training for Buddy. As you know Buddy is my first dog and I knew nothing about having a dog. At first, I was so frustrated with bathroom training and obedience I wanted to pull my hair out and was second guessing my decision to get a dog.(I've always had cats). Every time I looked at Buddy I had tears in my eyes, thinking this has to be the worst decision I have ever made. But then we heard about Lorraine at Happy Paws K-9 Academy. We opted to go with the e-collar training and I am here to tell you this is the BEST thing that has ever happened to us – not only for the obedience, but for bathroom training, and for the overall safety of our dog. The collar has allowed us to give Buddy the freedom of not using a leash and having him stop on a dime when we need him to. We live in the country and not having to confine our dog with a leash has been a God send. It also helps with socializing with other dogs. We used to have problems with Buddy riding in the car – but not anymore – we just drove to Florida and it was a breeze.
I can't say enough about how much I LOVE what the training has done and I think Buddy really loves the fact that he can run free.
                                      Connie & Bill, Hunter, NY
       Buddy – Golden mix                      
I would like to thank you for all the help you have given me with Buddy. As you know Buddy was adopted from the North Shore Animal League. He is a very shy, fear full, abused dog that was afraid of his own shadow. With your help in a few short weeks you have been able to help him clam down, teach him some commands, which he is getting very good at.  He is slowly learning how to be a dog again. From the first day I brought him home till today (about 7 weeks) the change in his behavior has been remarkable. Without your help and knowledge of dogs this would not have been possible. Thanks for all your help so far and we look forward to more sessions in the future.
                                Dennis, South Hempstead, NY
        Duke – Golden Doodle  
I wanted you to know how much we appreciate the training you recently provided to Duke.  When I first introduced the training concept  to my husband, his immediate response was "you bought another gadget you will never use".  Well, I'm proud to say we proved him wrong!  After your training, and my consistency,  Duke never leaves the house without his collar.  Just one call, and my playful GoldenDoodle is at my side.  The "magic collar" has been a huge success and so easy to use.  Now I can enjoy my time with Duke by my side without the worry of him running away (chasing the neighbor's cat).
Thank you again,
                                    Eileen H., New Hope, Pa.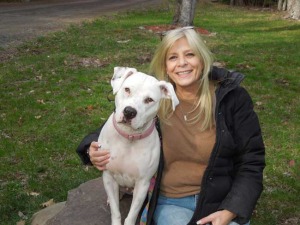 Katherine – American Bull Dog        
Lorraine is amazing, and I highly recommend her for your dog training needs. She has done wonders for myself and my rescue dog Katherine, not to mention her taking time to help me with a few basic issues with my golden retriever. Thank you Lorraine, you are a God send !!!!
      Lisa G. K. – Ashland, NY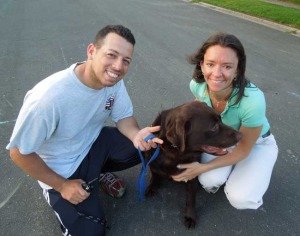 Tebow – Chocolate Lab       
We would like to congratulate our recent grad Tebow, an 11 month old Chocolate lab from Happy Paws k9 Academy. We had taken Tebow to puppy school and it was good for basic commands and socialization with other dogs. However, My wife Brooke and I are very active and wanted to include our pup on our adventures. We wanted Tebow to be unleashed and "free" because that's when dogs are their happiest.  Lorraine and Happy Paws K9 Academy were very highly recommended and we knew that training with the Dogtra E-Collar would maximize our relationship with our boy.  Lorraine was very professional, in addition to being very knowledable she was always on time and very curtious.  After a few weeks we were able to walk Tebow unleashed and have him at our side with one command. Summer 2012 is here and we can't wait to walk the beach or play fetch at the local park! We want to thank Lorraine for all her hard work, and we recommend her to anyone who wants to strengthen their relationship with their dog.

                                                                                               Brooke, Joe & Tebow, Amity Harbor, NY
        Maggie Mae – Jack Russel Terrier                     
A special thanks for all your attention and skill with our Maggie Mae. She is truly a new dog and looks forward to her time with Auntie Lorraine. Maggie is a Jack Russell Terrier that ran the household before she spent dedicated time with Lorraine and her training associates. Maggie now follows her commands nicely and she is on her way to being the sweet little dog we always wanted and knew she could be. My compliments to Lorraine's dedication and skill and we look forward to continuing our relationship with her and Happy Paws K- 9 Academy.
                        Antonetta P., Port Washington & Hunter, New York
  If you would like to add a testimonial
    please send a picture with your
Some Communities we serve:
Dog Training in Nassau County New York 516-483-0579
We provide dog training in all of Nassau County, including but not limited to Baldwin, Freeport, Hempstead (including North Hempstead, South Hempstead, and West Hempstead), Franklin Square, Levittown, Lynbrook, Massapequa, Merrick, Oceanside, Rockville Centre, Valley Stream, Wantagh, 5 Towns.
Dog Training in the Catskill Region of Upstate New York 518-734-5435 (weekends only)
We provide dog training in most of Greene County, including but not limited to Hunter, Windham, Maplecrest, Hensonville, Tannersville, Haines Falls, Elka Park, Jewett, Acra, Purling, and Phoenicia (in Ulster County).